Yayoi Kasuma is a Japanese artist whom I greatly admire. She has struggled with her mental health for most of her life. I'm sure that this is why she has such an interesting take on our world. I believe she is best known for her polka dot installations, but she does a lot of different kinds of art. She identifies as an outsider, but her work resonates so deeply with me. If you've been following my project, you know I already painted polka dots as something I love. What Kasuma says about them just touches me so much.
My performances are a kind of symbolic philosophy with polka dots.
A polka dot has the form of the sun which is a symbol of the energy of whole world and our living life, and also the form of the moon which is calm, round, soft, colorful, senseless and unknowing. Polka dots can't stay alone, like the communicative life of people.

Two and three and more polka dots become movement. Our earth is only one polka dot among the stars in the cosmos.

Polka dots are a way to infinity.

When we obliterate nature and our bodies with polka dots, we become a part of the unity of our environment, I become part of the eternal, and we obliterate ourselves in love.
That just gives me excited chills. I love it so much.
She also did these amazing installations that are mirrored rooms with glowing lights. I often think of big milestones in my life as being in a magic hallway of mirrors. When I got married, and when I had children, I thought about each generation of women I am descended from who also did those exact things. As I was doing them I imagined this way of connecting through space and time back and forward to the ages, to all the women I am linked to. When I see Yayoi Kasuma's infinity rooms, this is exactly what I was picturing in my mind's eye.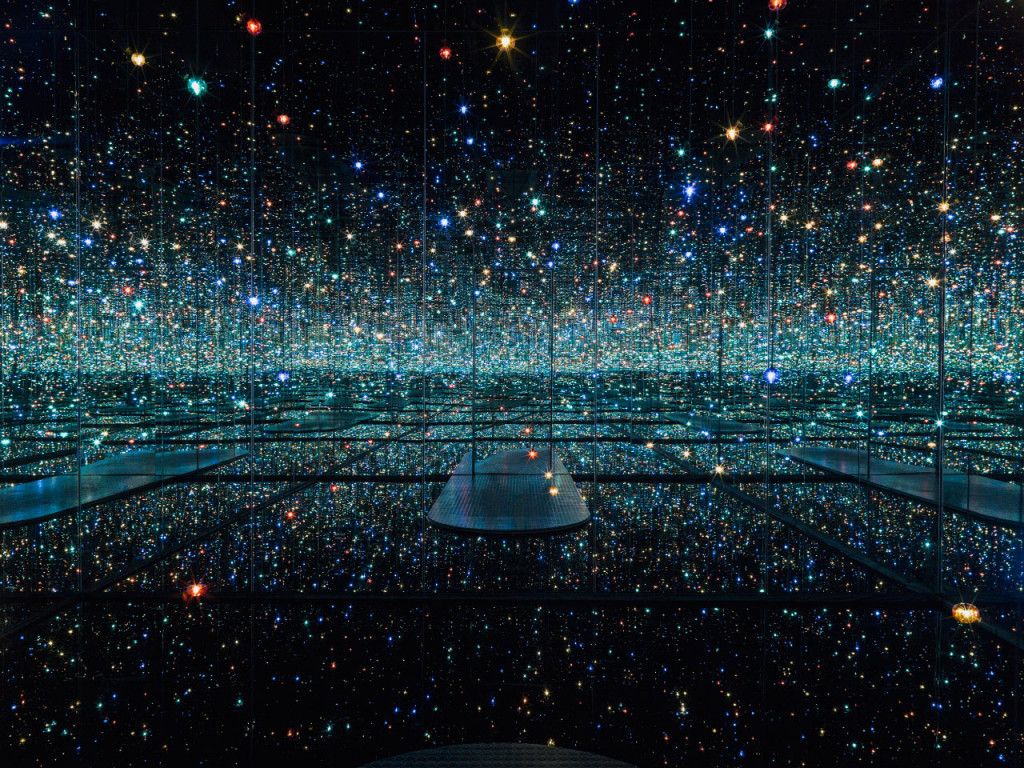 I just love her work so SO much.