We might have gone with our house in its current configuration, if not for the fact that our oldest daughter Sadie has been begging for her own room. My girls get along pretty well, but having your own space does become an issue when you are of "A certain age." Sadie is eleven years old, and ready to be able to shut us all out when she wants to.
I am really trying to keep my own design aesthetic out of her space, but it is so hard! I am trying to get her to think about color and texture, but like I said, she's eleven! She's often swayed by something new and shiny and not at all going together in a cohesive way. I can't blame her, but I can try to steer her a little bit.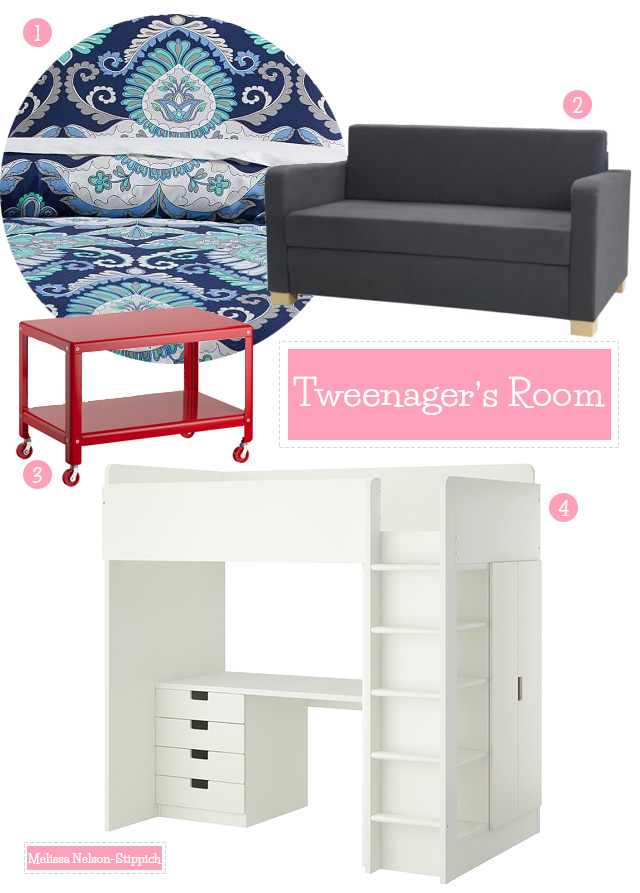 What We Have
Sadie already has this Stuva loft bed from IKEA. She has it configured as it is in the picture. The desk can be placed out at an angle, and I think in her new room we'll have it in more of an "L" configuration. She picked her new duvet cover from Pottery Barn Teen. If you aren't familiar with Pottery Barn's Teen decor, it's a lot of stuff that even a 40 year old lady might like to have around. They have bright colors and bold patterns and I personally like it a lot more than their regular line, but I think that says a whole lot more about me than about their offerings.
To Get
When we first began discussing what her room would look like, Sadie really wanted to have some kind of cozy "chill" area. She envisioned a place to read, or hang out with friends in. We started looking at bean bag chairs and large pillows. We both came to an agreement that the Solsta Sleeper Sofa from IKEA will work well in her space. She likes it for the couch aspect, and I like that it folds out so that she has a place for her friends to stay for sleepovers. It's small enough to fit nicely in our space too. I just wish it came in something other than dark gray. We are already planning on making throw pillows for it, so we'll just have to get our excitement in that way.
When we were at IKEA checking out the couches we both liked the way the IKEA PS 2012 Coffee table worked with the Solsta. It's nice that it has wheels for when the couch is in sofa bed mode. It comes in white and red. Sadie was all about the red, but looking at my little graphic up there, I'm just not sold on it working with the rest of her decor. The thing is, I am always going to pick a color over white. I'm just not a fan of that shade. Especially when I know my kids will be using markers and paint on this surface. So I guess I'm in the red camp right along with my girl.
To Decide On
There's still so much left to figure out. The biggest thing is the wall color. The floor in her room is a wood parquet, but she needs a rug for at least part of it. After a long history of rugs with my kids, I am all about the cheaper the better. I don't know how it happens, but my kids are champions of vomiting on rugs. I am thinking of an indoor/outdoor option in this kid's room. We still need to figure out toy and clothes storage as well.
Her room is currently our office and doesn't even have doors yet, so I'm thinking we have time to work out where exactly we are going with things.