13 years ago I found this cookie jar at an antique store in central California on my honeymoon.
We spent our honeymoon in Pismo Beach. Looking back, it's such a weird destination. I just knew I wanted to visit Hearst Castle & be with my sweetheart.
I had been obsessing over these cookie jars on ebay. They were designed by Eva Zeisel for Hall China. If you want to know all about them and Eva Zeisel, here is a very informative link. Hall China also made mixing bowls, tea pots, and casserole dishes to match. All of those have been on my wish list for ages.
Here's a vintage ad I found via Pinterest with the entire line of Gold Label designs, they are ALL so cool!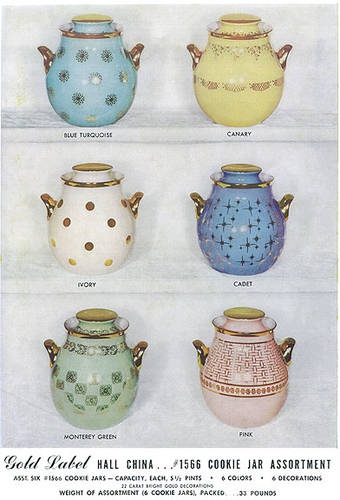 I was SO excited when I ran across one in one of the many antique stores we visited on that trip.
It's got a few chips out of the inner lip, but you can't see that from the outside.
At the moment it lives on my dresser, filled with nothing.
In fact, it had become almost invisible to me until this morning when I was getting dressed.
Isn't it funny how even the things we adore can become mundane over time? I think that's another reason this project is so fun. Reminding myself of what I love & taking time out to paint it reignites that excitement I felt about it the first time I fell in love with it.
Not at all related to that, except maybe a little bit, tomorrow I leave on a getaway with my husband. We are returning to central California. We travel there, in part, to right a wrong that I made all those 13 years ago (more on that to come later this week), but also to just have some time together. This will be our first trip away from our kids, EVER. I am two parts excited and one part totally freaking out about leaving our kids. Luckily the good feelings are outweighing the totally insane neurotic ones.
I'm planning on painting during the trip, so hopefully this project will continue without a hitch. The next time I write I will be kid free! How exciting/terrifying!