Today we visited Hearst Castle, the California home of William Randolph Hearst. If you've never been, I highly recommend going. We were truly with our people today, as I think the majority of them were at least 15 years older than us. Brett and I seem to notice that if the senior set is into it, it seems to be our bag too.
There are tours of different parts of the house, and today we took two of them. I LOVE touring historical homes. I was tempted to paint the swimming pool of Hearst Castle, as I have had a soft spot in my heart for it ever since I saw it as a child. But we didn't get back to the hotel until late, and if you check out the detail in this photograph I took today, there is no way I could do it justice in the time I have available this evening.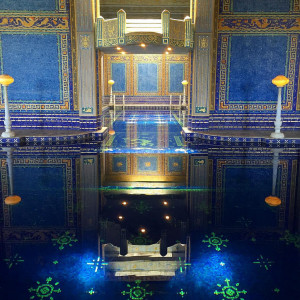 Luckily, I had one of my favorite desserts today. I love all kinds of custard, but Creme Brulee is a special favorite of mine. When Brett and I were on our honeymoon, we stayed at a hotel that had room service AND COCONUT Creme Brulee, my absolute favorite thing ever. I have been thinking about that a lot this week!